Guys, I want to introduce you to a tool, which has a hugely positive effect on me – just by starting one week ago. I´m super convinced of it and I want to share my thoughts and insights about it with you. One week ago, I had lunch with my friend Anna who brought me "My Weekly Balance" as a gift for me. She is also actually the creator of this amazing tool. Anna has a huge experience in business and spiritual life. She is traveling a lot and has a huge knowledge of spiritual & human design topics. So with all this background, she is now starting to shape and create her own tools, which help people to balance their private and business life.
My Weekly balance is a tool for your Soul, Emotions, Mind and Body, because they are interrelated. What happens to one affects the others.
The Mission of this amazing tool is, that it was designed to help people to live a healthy, happy and meaningful life full of magic and synchronicities. We all want to achieve a balance in our lives, but when things are hectic and fast-paced, it´s easy to forget to take care of ourselves and the people we love. This why this planner is going to keep us accountabl so that we don´t brush off our goals and are reminded to encourage balance in all aspects of our life.
It´s so simple and fun to use. Every day I looking forward to filling it out in the evening.
The planner is divided up into 4 columns representing a different aspect of life: Body, Emotions, Mind & Soul. Each column contains a list of Actions that help support and nurture each aspect. Annas recommendation is to try to practice 3 to 5 Actions from each column every day. When you have completed an action, check the circle next to it to note which day it was completed. There is also a free space to add your own actions.
What I also love is that you have a Mantra at the start of your week. You define your main goal/motto for your week. I love this idea. There is also a space to note any synchronicities that may occur. This makes me personally realize, that my positive attraction really attracts positive Things in my environment.
I can recommend My Weekly Balance really from the bottom of my heart to you. I love it and I´m convinced you will love it too.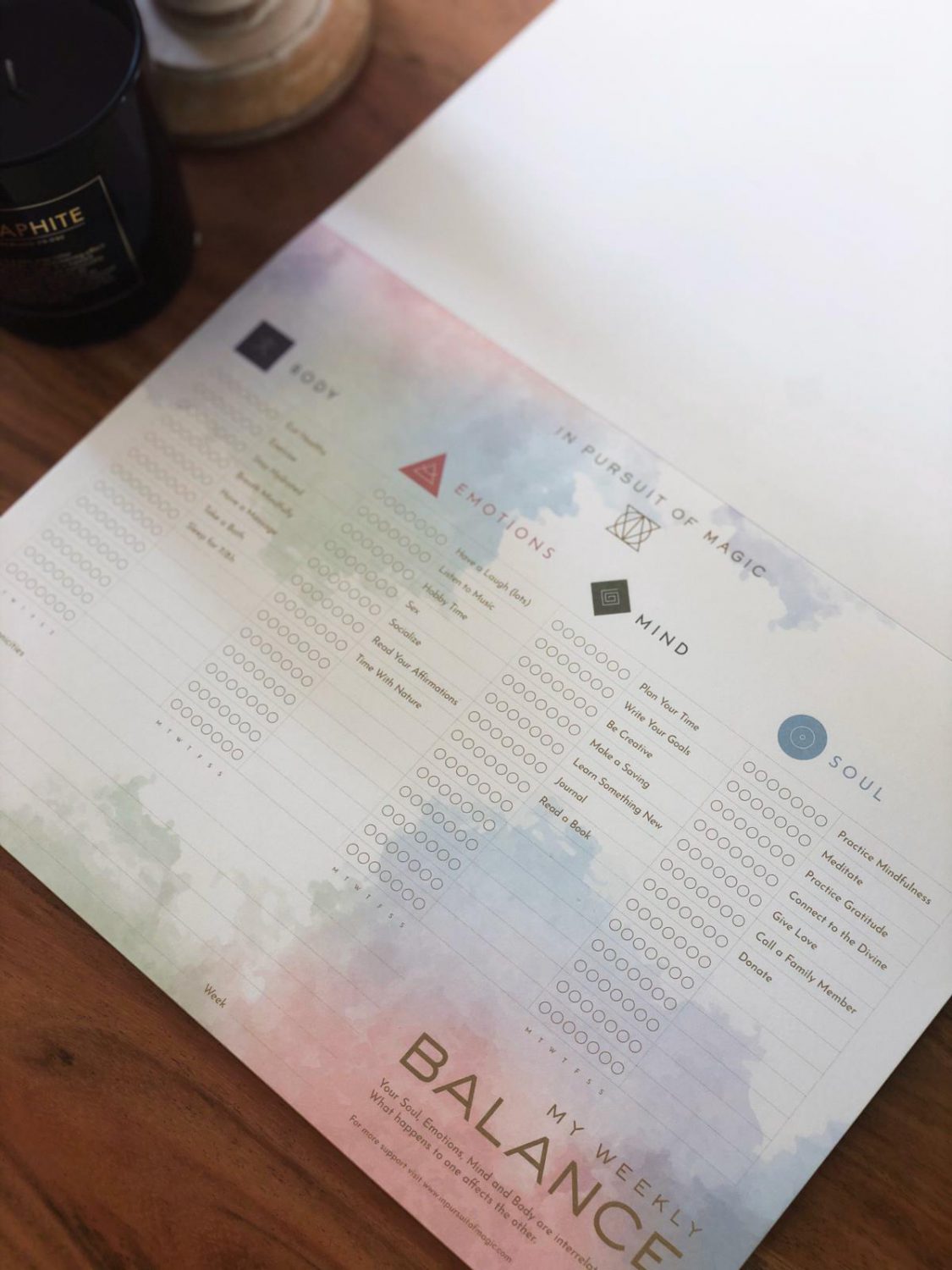 More Information about it, you will get on Annas Website.